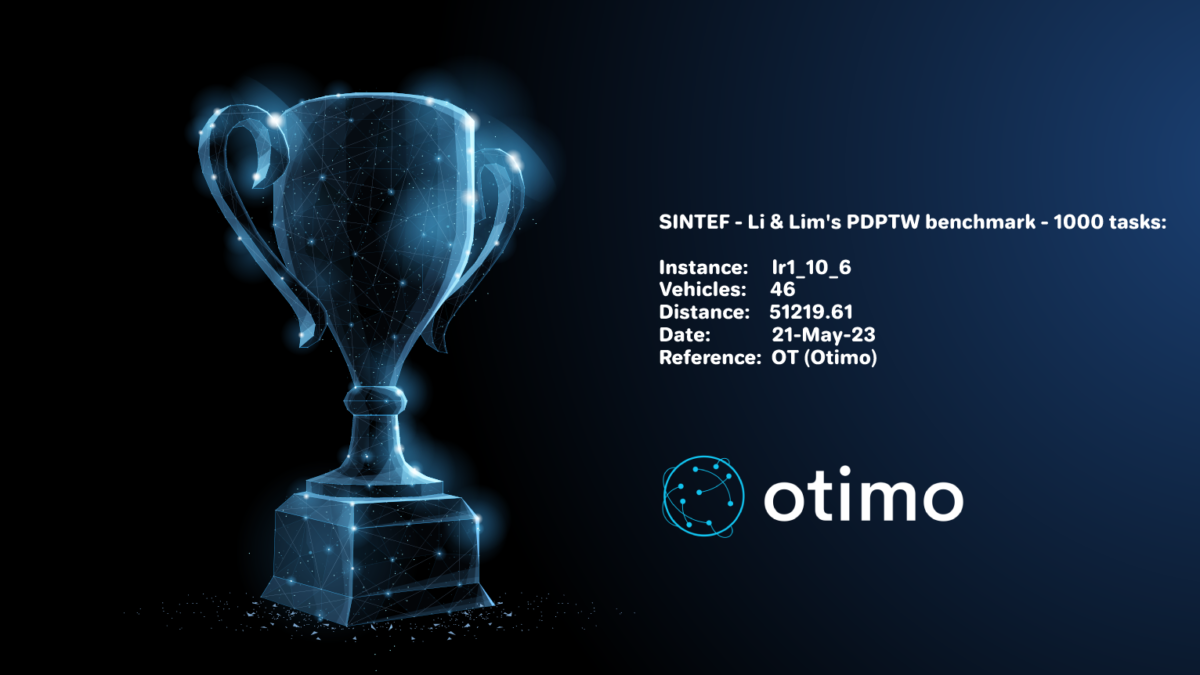 Otimo z kolejnym rekordem
Pod koniec ubiegłego roku informowaliśmy, że brazylijski instytut Galgos uznał ponad 70 rekordów świata Otimo w obszarze benchmarków Gehringa-Hombergera, czyli problemów z obszaru CVRPTW (Capacitated Vehicle Routing Problem with Time Windows), tj. VRP z oknami czasowymi. Niedawno Otimo znalazło się na liście rekordów innej organizacji – norweskiego SINTEFu.
SINTEF jest niezależną instytucją badawczą, która prowadzi różnego rodzaju projekty badawczo-rozwojowe, w tym – podobnie jak Galgos – zajmuje się tematyką zaawansowanych algorytmów i optymalizacją kombinatoryczną. Do tematu tego podchodzi jednak na swój sposób i przykładowo rejestruje także nieco inne benchmarki. Otimo zgłosiło do SINTEFu swoje wyniki w zakresie benchmarku PDPTW Li & Lim (Pickup and Delivery Problem with Time Windows) dla 1000 punktów, gdzie nadrzędnym celem jest 1) minimalizacja liczby pojazdów, a po nim 2) minimalizacja całkowitego dystansu. Jako, że były to najlepsze znane wyniki dla danej instancji problemu, łódzka spółka znalazła się na liście rekordzistów prowadzonej przez norweski instytut (gdzie widnieje jako OT).
"Nasz zespół nieustannie pracuje nad ulepszaniem naszych algorytmów, tak, aby poprawiały nie tylko nasz własne osiągnięcia w tym obszarze, ale i światowe rekordy" – mówi Krzysztof Chaładyn, Wieceprezes Otimo Sp. z o.o. "Oczywiście uznanie ze strony tak renomowanych instytucji jak Galgos czy SINTEF jest miłym ukoronowaniem często wielu miesięcy ciężkiej pracy. Chciałbym jednak podkreślić, że za rekordami optymalizacyjnymi idą wymierne, biznesowe korzyści – i na tym staramy się skupiać. A jeśli w budowaniu przewagi konkurencyjnej pomaga nam zdrowa, akademicko-biznesowa rywalizacja z zespołami z całego świata, to jest to dla nas sytuacja win-win. Nasza ambicja i pasja sprawiają bowiem, że nie straszne nam żadne wyzwania i wiem, że zyskujemy na tym nie tylko my poprzez samorealizację się i rozwijanie swoich umiejętności, ale również nasi klienci."
Tags In