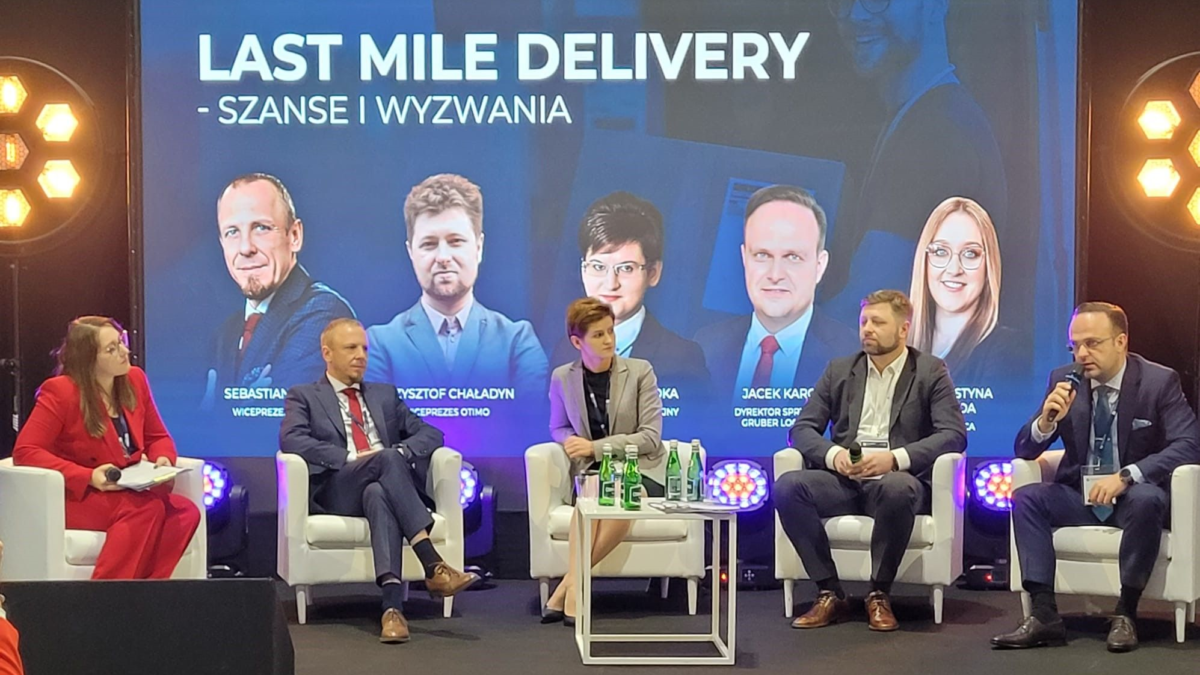 "Last mile delivery – opportunities and challenges" discussion panel
Krzysztof Chaładyn, Wiceprezes Zarządu Otimo Sp. z o.o. był jednym z panelistów debaty "Last mile delivery – szanse i wyzwania", jaka odbyła się 9 listopada 2022 r. w ramach targów TransLogistica Poland. Wśród zaproszonych ekspertów byli również Sebastian Anioł – Wiceprezes Zarządu InPost, Sylwia Jagódka – Dyrektor Operacyjny Magazyny123, Jacek Karcz – Dyrektor Sprzedaży Gruber Logistics, a dyskusję moderowała Justyna Świeboda – Prezes Zarządu Polskiego Instytutu Transportu Drogowego.
TransLogistica Poland to wiodące targi transportu i logistyki w Europie Środkowo-Wschodniej, których X edycja odbyła się w dniach 7-9 listopada 2022 w Warszawie. Poza możliwością odwiedzenia stoisk przedstawicieli różnych branż związanych z transportem czy logistyką w ramach targów organizowanych jest szereg bardzo ciekawych wydarzeń. "Z przyjemnością przyjeliśmy zaproszenie od Polskiego Instytutu Transportu Drogowego do udziału w panelu eksperckim poświęconym ostatniej mili." – mówi Krzysztof Chaładyn, Wiceprezes Zarządu w Otimo Sp. z o.o. "Samo znalezienie się w tak szanownym gronie było dla nas wyróżnieniem. Rozmowa z czołowymi przedstawicielami największych graczy z branży logistycznej w Polsce takimi jak choćby Sebastian Anioł, to niesamowicie ciekawe doświadczenie i kusząca propozycja. Był to też kolejny doskonały powód by odwiedzić targi, spotkać się z kolegami z branży, porozmawiać z partnerami czy odświeżyć niektóre kontakty."
Wydawać by się mogło, że ostatnia mila oznacza "tylko" końcowy etap dostarczenia towaru. Nic bardziej mylnego. W przypadku zakupów internetowych właśnie ten końcowy etap okazuje się najbardziej istotny, kosztowny i skomplikowany w całym procesie logistycznym. Wynika to m.in. z uwarunkowań prowadzenia działalności logistycznej w centrach miast, czy rosnącej roli rynku e-commerce. Wszystkie czynniki wskazują, że w przyszłości wyzwania związane z obsługą ostatniej mili będą się nasilać. Takie zagadnienia właśnie były głównym przedmiotem debaty, która spotkała się z niezwykle dużym zainteresowaniem.
"Z informacji, jakie otrzymaliśmy od organizatorów oraz z rozmów w kuluarach wynika, że był to jeden z paneli cieszących się największym zainteresowaniem w czasie tegorocznej edycji TransLogistica Poland" – dodaje Krzysztof Chaładyn. "To, co mogę potwierdzić osobiście to fakt, że sala była wypełniona po brzegi, debata w moim mniemaniu była bardzo ciekawa, a z dyskusji, jakie odbyłem z widzami po panelu wynika, że wzbudziła zainteresowanie również wielu widzom. Na pewno wpiszemy targi do kalendarza wydarzeń i wrócimy tutaj za rok".