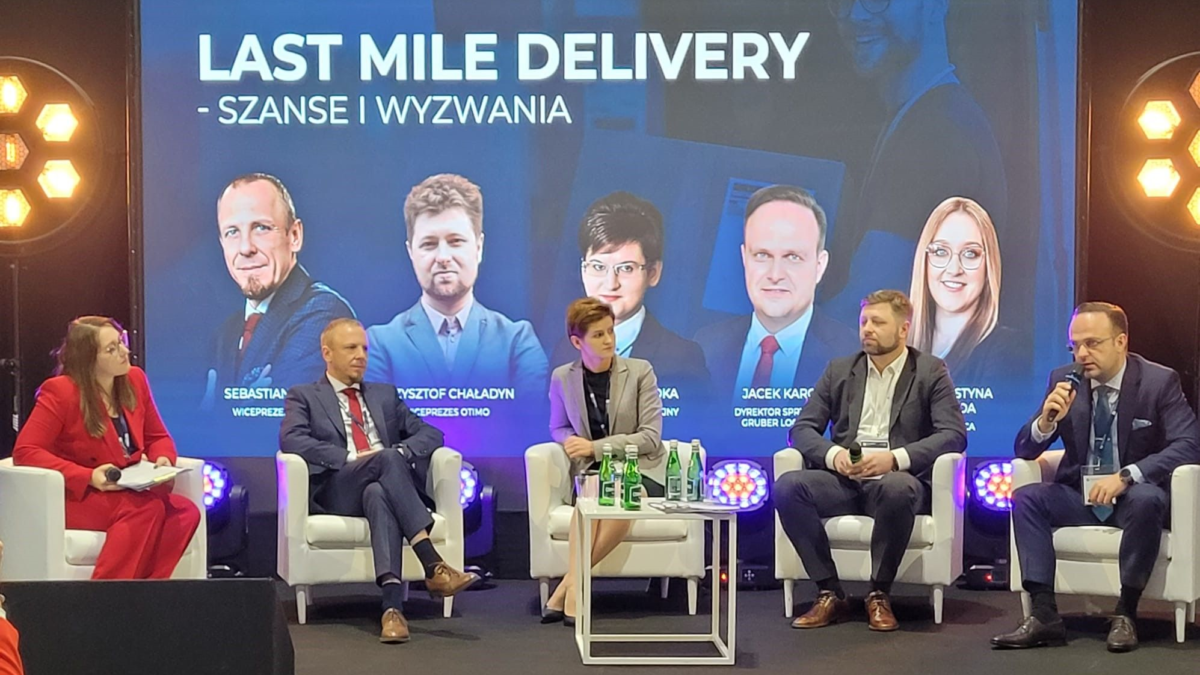 "Last mile delivery – opportunities and challenges" discussion panel
Krzysztof Chaładyn, Vice-Chairman of the Board of Otimo Ltd. was one of the panelists of the "Last mile delivery – opportunities and challenges" debate, which took place on November 9, 2022 as part of the TransLogistica Polandtrade fair. Other invited guests were Sebastian Anioł – Vice-Chairman of the Board of InPost, Sylwia Jagódka – Chief Operating Officer of Magazyny123 and Jacek Karcz – Sales Director of Gruber Logistics. The discussion was moderated by Justyna Świeboda – Chairman of the Board of the Polish Institute of Road Transport.
TransLogistica Poland is the leading transport and logistics trade fair in Central and Eastern Europe, the 10th edition of which was held on November 7-9, 2022 in Warsaw. In addition to the opportunity to visit the stands of representatives of various industries related to transport or logistics, the trade fair includes a number of very interesting events. "We were pleased to accept an invitation from the Polish Institute of Road Transport to participate in an expert panel dedicated to the last mile." – says Krzysztof Chaładyn, Vice-Chairman of the Board of Otimo Ltd. "Just being included in such a respectable group was an honor for us. A conversation with the leading representatives of the biggest players in the logistics industry in Poland, such as Sebastian Anioł, is an incredibly interesting experience and a tempting proposition. It was also another great reason to visit the trade fair, meet with colleagues in the industry, talk to partners or refresh some contacts."
It may seem that the last mile means "only" the final stage of the goods delivery. Nothing could be further from the truth. In the case of online shopping, this final stage turns out to be the most significant, costly and complicated in the entire logistics process. This results, among other things, from the conditions of conducting logistics operations in city centers or the growing role of the e-commerce market. All factors indicate that the last mile challenges will intensify in the future. Such issues were the main subject of the debate, which was met with extremely high interest.
"From the information we received from the organizers and from conversations behind the scenes, it seems that it was one of the most popular panels during this year's edition of TransLogistica Poland," adds Krzysztof Chaładyn. "What I can personally confirm is that the hall was filled to the brim, the debate was very interesting, and from the discussions I had with the audience after the panel, it seems that it aroused the interest of many viewers as well. We will definitely add the event to the calendar and come back here next year".