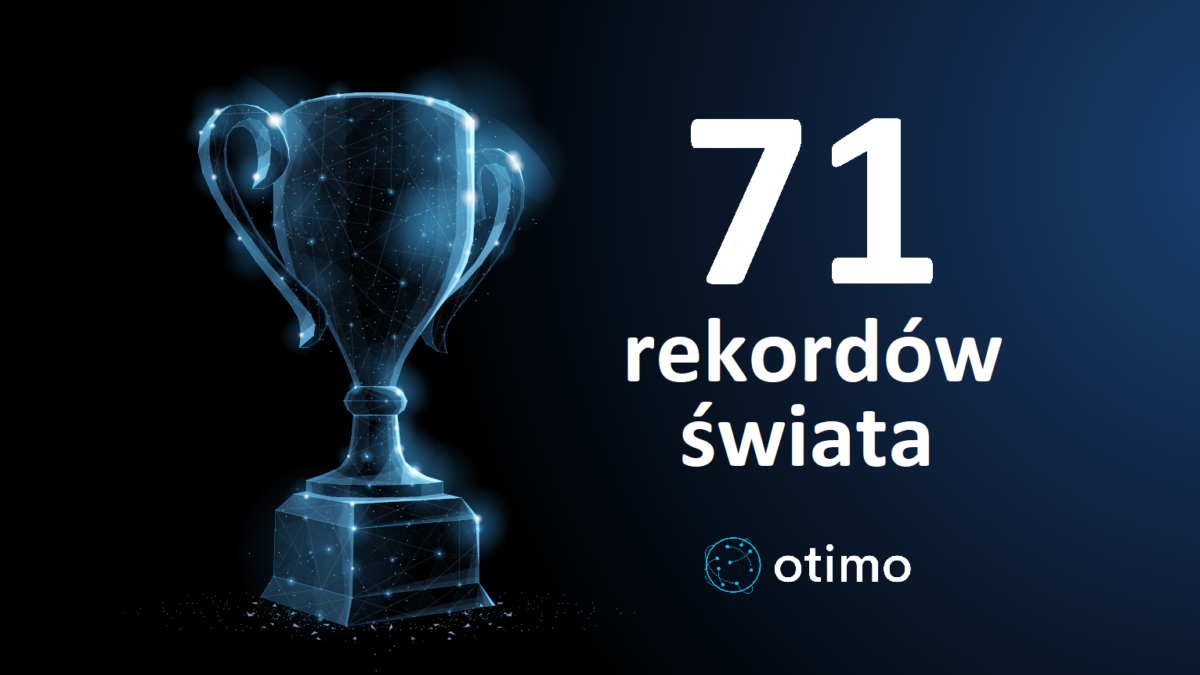 Otimo sets 71 world records and triumphs in the global optimization race
Algorytmy optymalizacyjne autorstwa Otimo ustanowiły w tym roku 71 rekordów świata. Choć do brazylijskiego instytutu Galgos prowadzącego rejestr takich rekordów przesyłane są zgłoszenia od zespołów z całego świata, to w tym roku nikt nie może równać się z wynikami łódzkiej spółki. 
Galgos to instytut powiązany z brazylijskim uniwersytetem PUC-Rio, który skupia się na rozwoju i zastosowaniu metod algorytmicznych do obsługi i analizy dużych ilości danych, a także optymalizacji zasobów. Prowadzi on i aktualizuje rejestr najlepszych znanych wyników zgłaszanych przez zespoły z całego świata.
W tym roku Galgos rozszerzył rejestr rekordów o benchmarki Gehringa-Hombergera, czyli problemy z obszaru CVRPTW (Capacitated Vehicle Routing Problem with Time Windows), tj. VRP z oknami czasowymi. Dla zobrazowania zagadnienia wyobraźmy sobie następującą sytuację: operator floty pojazdów otrzymuje listę punktów, jakie ma odwiedzić, ich lokalizacje, okna czasowe, w których można je odwiedzić, ilość towaru, jaką należy dostarczyć do danego punktu oraz maksymalne obciążenia pojazdów. Problem polega na znalezieniu jak najkrótszej trasy dla pojazdów, która przejeżdża przez wszystkie punkty, nie przekraczając okien czasowych odwiedzin żadnego z nich ani maksymalnego obciążenia pojazdów. Przez rekord w tym przypadku rozumiane jest poprawienie najlepszego znanego do tej pory wyniku. Zależnie od założeń wyjściowych (liczba punktów do odwiedzenia, towarów itp.) instancji takiego problemu może być mnóstwo, a więc również i rekordów.
Otimo zgłosiło swoje wyniki w aż 71 instancjach takiego problemu i jako że są to najlepsze znane dotąd wyniki na świecie może się pochwalić tyloma właśnie aktualnymi rekordami. Jest to niewątpliwie ogromny sukces, nie tylko w świecie nauki, ale może nawet przede wszystkim – biznesu. To zresztą nie pierwsze osiągnięcia Otimo na tym polu. Trzon zespołu stanowią autorzy unikalnego na skalę światową solvera – narzędzia do wyznaczania tras pojazdów, które generuje najlepsze znane wyniki dla badanych instancji. Przez lata pracy nad wspólnymi projektami osoby stojące za Otimo biły dziesiątki innych rekordów dla wybranych problemów optymalizacyjnych.
"Nie ukrywam, że jesteśmy niezwykle dumni z tych osiągnięć." – mówi Krzysztof Chaładyn, Wiceprezes Zarządu Otimo Sp. z o.o. "Przykład Otimo potwierdza, że nie zawsze liczą się tylko wielkość firmy czy posiadane zasoby. Zespół zdolnych osób z odpowiednią wiedzą i doświadczeniem, profesjonalistów z prawdziwą pasją do tego, co robią potrafił sprawić, że niewielka łódzka spółka wygrywa w światowym wyścigu optymalizacyjnym z gigantami z Doliny Krzemowej czy Chin. Optymalizacja, zwłaszcza ostatniej mili, jest obecnie jednym z najgorętszych tematów w branży logistycznej i wszyscy kluczowi gracze pracują nad rozwiązaniami w tym zakresie. Mogę zapewnić, że w Otimo dopiero zaczynamy pokazywać, na co nas stać i kolejne rekordy przed nami".
Aktualny rejestr rekordów brazylijskiego instytutu Galgos dostępny jest tutaj.